Word of the Day!!
Today's word of the day… isn't a word of the day due to nothing in my repertoire of knowledge beginning with J and having to do with Sushi.
So I shall bestow upon you my favorite Sushi Rice recipe and ask for yours. 
Also, Expand my knowledge if you know any sushi terms beginning with J :)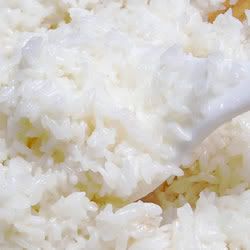 Ingredients
2 cups uncooked glutinous white rice (sushi rice)
3 cups water
1/2 cup rice vinegar
1 tablespoon vegetable oil
1/4 cup white sugar
1 teaspoon salt
Directions
Rinse the rice in a strainer or colander until the water runs clear. Combine with water in a medium saucepan. Bring to a boil, then reduce the heat to low, cover and cook for 20 minutes. Rice should be tender and water should be absorbed. Cool until cool enough to handle.
In a small saucepan, combine the rice vinegar, oil, sugar and salt. Cook over medium heat until the sugar dissolves. Cool, then stir into the cooked rice. When you pour this in to the rice it will seem very wet. Keep stirring and the rice will dry as it cools.
I give credit to Lucy Delrey for this amazing Sushi recipe!
Does anyone have a favorite recipe or sushi term beginning with J?